The production of a high quality Master Pattern is a first step in the process of creating the molds and tooling suitable to provide parts, finished to customer expectation as regards both cost and quality. As such construction is generally cost sensitive, Southwind will advise and recommend to our customers how and why they might consider various options. Those options will generally be either, CNC, Rapid Prototype (SLA or a similar process), or hand built in-house by our Pattern Maker.
The design configurations of any particular tool will, in every instance, directly affect its lifespan, efficiency of operation, and most importantly the quality of the parts it produces. What we've learned in our twenty years of experience in the "art" of tool construction specific to I-Skin Polyurethane portends that we usually get it right the first time. Our philosophy is one of "win-win"–wherein, the more efficiently we can run a tool it benefits the customer by virtue of the price we have to demand to produce the part in the first place. Bottom line, we are not going to be successful ourselves if we fail to assure that the customer is, to the best of our ability, successful as well.
Our most common constructions are generally either of FRP reinforced Epoxy or aluminum (machined, cast, or fabricated) but we do use other materials as required by special cases. We will always advise a path for both materials and operating infrastructure which we perceive as the most viable to achieve your quality requirements and that will maximize cost efficiency for the production of each particular product.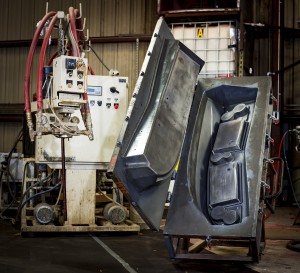 We will store and maintain your tooling (though cannot insure them) as long as we are making your part(s). Should you require their transfer such will be expeditiously and courteously attended to.
Our normal terms for tooling per stage (Master Pattern—Tool Construction) are: 50% up front with the balance due upon approval of; the pattern in the first case; or first shots in the second.